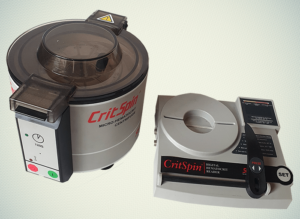 Microhematocrit Centrifuge with Speed in Nigeria (Pre-owned) is a compact, quiet, economical microhematocrit system that provides accurate and complete cell packing in only two minutes and is perfect for the office, laboratory, or clinic. Microhematocrit centrifuge machine is available for sale or rent at FF Trading Medical Devices. FF Trading located in Lagos Nigeria serves the African market across Abuja, Port Harcourt, Kano, Benin, Accra, Johannesburg, Kigali and all sub Saharan Africa.
Microhematocrit Centrifuge with Speed is the StatSpin CritSpin Centrifuge Machine used for centrifuging microhematocrit tubes for packed cell volume determination, as well as rapid separation of whole blood and preparation of urine sediment for microscopic analysis. It's fast and separates samples in a fraction of the time required by other systems, providing quality serum or plasma separations in 30 to 120 seconds. This whisper-quiet system produces nearly vibration-free operation.
Features
Complete Cell Packing in Two Minutes
Tube Balancing Not Required
Vibration-Free Operation
Digital Display Reduces Errors
Quiet Processing
Coated steel interior for easy cleaning
Microhematocrit Centrifuge Parts and Uses
Blood separation: Perform quality serum or plasma separations with a spin time of only 30 to 120 seconds.
Lipemic sample clearing: Clear lipemia from 0.5 or 1.5 mL of serum or plasma with LipoClear simply and effectively. Samples require a quick five-minute room temperature incubation followed by a 95-second spin. The prefilled, ready-to-use tubes are non-toxic with a one-year shelf life.
Urine sediment: The unique micro-method correlates with standard procedure and requires only 1.5 mL of urine. Filling and decanting is easy with pre-calibrated conical flip-cap tubes. The "Urine Sediment" mode takes only 45 seconds.
Hematocrits: The StatSpin CritSpin offers a whisper-quiet, two-minute spin for 12 tubes at a time. Choose from glass or easy-to-read SafeCrit plastic tubes (plain or heparinized). An inexpensive, hand-held reader and illuminating digital reading station are also available.