The Hill-Rom Delivery Bed in Nigeria (Brand New) is a patient-ready gynae bed for rent or for sale at FF Trading Medical Devices. FF Trading located in Lagos Nigeria serves the African market across Abuja, Port Harcourt, Kano, Benin, Accra, Johannesburg, Kigali and all sub Saharan Africa.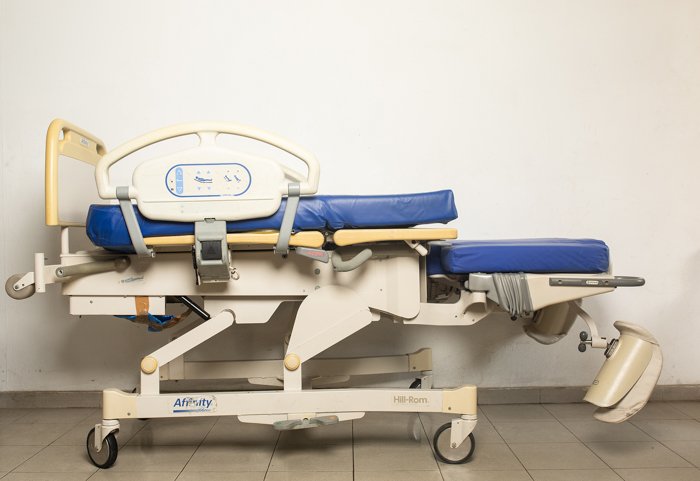 The Hill-Rom Affinity (Model P3700) delivery bed is intended for use as a birthing bed within the acute care Labor and Delivery Unit. Hill-Rom has continued to make refinements to this popular model birthing bed to support mom, baby, and the caregiver throughout the labor and delivery experience.
Given how unpredictable labor and delivery experience can be for everyone involved. The Hill-ROM Delivery bed has been designed to help manage this, by offering solutions that can adapt and deliver throughout the birthing process with its unique features like:
The Easy Glide calf support – swings into correct position and locks with single lever.
No-lift stow-and-go foot section may be stored under the bed and easily slides back without interfering with linens
and without false latching.
4 dual-lock casters keep the bed safely in place.
Automatic pelvic tilt to provide better access to patient for birth.
Automatic seat tilt.
Blow-molded headboard.
Fluid basin.
Central brake and steering.
Lockout control/indicator.
Labor grips.
IV pole.
Foot supports.
Specifications:
Full Bed Length: 90″ (229 cm).
Mattress Length: 78″ (198 cm).
Mattress Width: 35″ (89 cm).
Head Elevation (Maximum): 63°.
Seat Elevation (Maximum): 15°.
Trend-Like Positioning (Maximum): 8°.
Caster Size: 6″ (15 cm).
Bed Capacity: 500 lbs (227 kg).
Foot Section Capacity: 400 lbs (181 kg).